Resources:
Rational Emotive Behavior Chapter written by Debbie Joffe Ellis and Albert Ellis.
See below.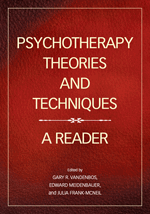 Psychotherapy Theories and Techniques: A Reader
Pages: 368
Item #: 4317329
ISBN: 978-1-4338-1619-2
Publication Date: November 2013
Format: Softcover
Availability: In Stock
Overview
Table of Contents
Psychotherapy Theories and Techniques explores the richness and variety of psychotherapy in a collection of carefully chosen excerpts from APA publications. Intended for students and practitioners, this volume provides a unique look at contemporary psychotherapy theory and the specific interventions associated with each orientation.
All major approaches in psychotherapy are included — everything from cognitive–behavioral therapy to psychoanalytic therapy — as well as newer approaches such as acceptance and commitment therapy and schema therapy. Chapter appendixes direct readers to videos showing specific techniques in APA's database of psychotherapy demonstrations, PsycTHERAPY®, so that readers can see interventions in action.
Whether just beginning a clinical program of study or already in practice, readers may use this volume as both a companion to PsycTHERAPY as well as a unique survey of contemporary approaches and techniques.
http://www.reinhardt-verlag.de/de/titel/51501/Rational-Emotive_Verhaltenstherapie/978-3-497-01640-2/
Rational Emotive Behavior Therapy translated into German
Rational Emotive Behavior Therapy:
by Albert Ellis and Debbie Joffe Ellis.
Chapter 5 (Pp 151-191) in:
Wedding, Danny & Corsini, Raymond J. (2014) Current Psychotherapies. 10th Edition.
Published by Brooks/Cole-Cengage Learning: California, USA.
USA Link
http://www.barnesandnoble.com/w/current-psychotherapies-danny-wedding/1114806138
UK Link
http://www.coursesmart.co.uk/9781285175591